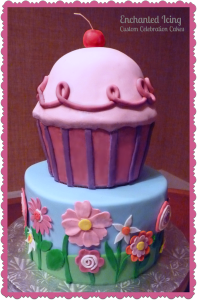 Bae just turned 4. I don't know how that is possible, since I have known Bae since she was a newborn, and it doesn't feel like 4 years have passed by. Sigh. Bae has, over that time, become an adorable, precocious little girl who is very outgoing and knows what she likes. We are all very fond of Bae.
Pinkalicious is one of Bae's favorite books. It is the story about a girl who loves the color pink, and then turns pink after eating a pink cupcake! Pinkalicious was the theme for Bae's birthday party. The cake I made for Bae is based on an image Bae's mom, Phoebe, sent me. It is a very girly, cute cake with lots of pink. The cupcake from the story forms the top tier of the cake, and flowers from the story are on the bottom. (I took the photo before I putting Bae's name on the cake. Bad baker.)
Happy 4th Birthday, beautiful Bae! May all your wishes come true!