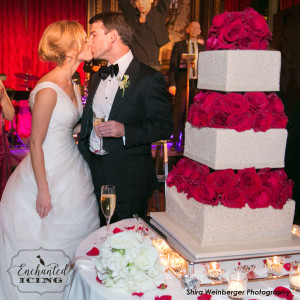 Back in October, I made a cake for Alexis and Rob's wedding. It was an absolutely stunning wedding for a beautiful young couple. The wedding took place at the Metropolitan Club in Manhattan, which is on Fifth Avenue and 60th Street.  While I only posted one photo of their cake, the wedding was so beautiful I'd be remiss if I didn't share some of the photos with you, taken by the very talented Shira Weinberger, a NYC based wedding photographer.  I am posting several general wedding photos borrowed from Shira, because, well, they're fabulous and worth sharing. (You can see more from the wedding on Shira's blog, here). The wedding was planned by Vanda High Events , who did a truly fabulous job.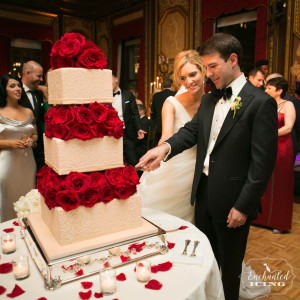 As for the cake, it was traditional and very romantic, with white on ivory brocade-covered tiers separated by lush red roses from Glorimundi Flower and Event Design, who also provided the gorgeous floral decor which was exclusively in ivory and white. The design was based on an image provided to me by the bride; she knew exactly what she wanted and it worked out perfectly. The cake complemented the beautiful room, with its red velvet curtains and ornate walls and ceiling. The cake was made of rich chocolate stout cake, filled with alternating layers of red raspberry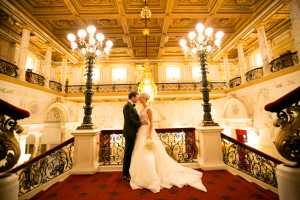 buttercream drizzled with raspberry preserves, and nutella buttercream; it was frosted with dark chocolate ganache and covered with a thin coat of fondant. I encourage my clients to choose flavors they love, not what they think is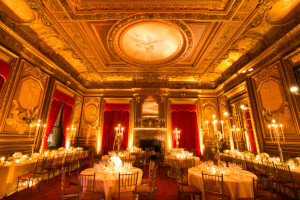 the least common denominator to please the most guests. After the wedding, the couple told me that they were thrilled with the cake, and that some of their friends had told them it was the "best wedding cake they'd ever tasted"! That makes this cake artist's heart sing. 
Congratulations, Alexis and Robert, and many wishes for a long and happy life together! Thank you for letting me be a small part of your celebration.