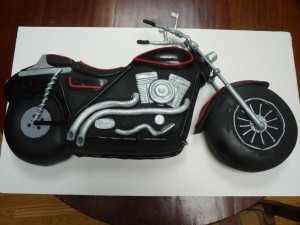 Nancy received an order from a bride-to-be who wanted to surprise her fiancee at their rehearsal lunch with this motorcycle cake, which Nancy modeled from a photo of the man's own vintage Harley Davidson. The couple go riding on the weekends, and when they were planning the wedding, they kept joking about having a Harley Davidson wedding cake.  This cake had lots of details the groom appreciated, including the red piping from the groom's bike, a working headlight, rear-view mirrors on the handlebars, and a speedometer.  When Nancy delivered the cake, he joked that she had gotten the suspension and brakes exactly right, with the disk brake in the back but not in the front.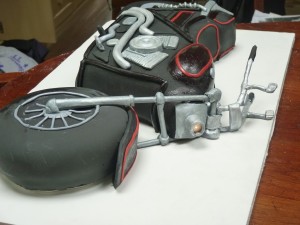 The groom's favorite dessert is carrot cake, and we had just the cake for him: A delicious, moist carrot cake subtly flavored with crushed pineapple and coconut, filled and frosted with cream cheese frosting. Mmmm…
And here's the very satisfied biker (still licking his fingers)!  Insert your own hog joke here.