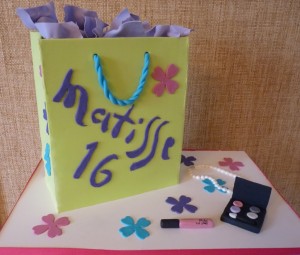 This cake was made for the Sweet Sixteen party for a lovely young woman named Matisse. She was indeed named after the famous French artist, Henri Matisse; I am a fan of his work, and think her name very cool and creative. So of course the question was how to combine the interests of a contemporary 16 year old with some inspiration from her namesake? This cake was the result.
Matisse, like many girls of her age, loves fashion and shopping. Her mother told me that Matisse was born in a hospital room with a view of Bloomingdales, sealing her fate. Her mother and I decided to use this funny story as the theme for the cake. Her mother also asked if I could incorporate the artist Matisse's iconic signature into the design. The artist was also known for his cut-out designs (the work at right hangs in the Museum of Modern Art in NYC), some of which had a motif of what looks like a 4-sided flower. Thus, I was inspired by flowers by Matisse the artist, but made my own version in colors loved by Matisse the 16 year old. It is hard to see in the top photo, but the flowers go up the sides of the bag in addition to being scattered on the board holding the cake.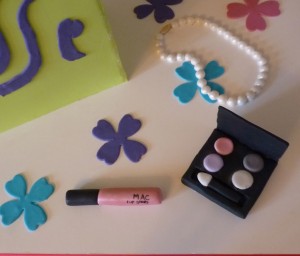 Finally, a certain 14 year old daughter of mine had the brilliant idea of adding some teen-appropriate details, including a lip gloss, eye shadow and necklace from fondant. She even made the eye shadow and lip gloss herself, and I think she did an amazing job!
The cake itself was the shopping bag, and there were two flavors in two tiers. The bottom tier was chocolate cake with oreo filling and chocolate buttercream on the outside, and the top tier was vanilla cake with raspberry buttercream and fresh raspberries, with chocolate buttercream outside as well. Everything was covered by the green fondant "bag".
Here's to Matisse and I hope she had a fabulous party and birthday!