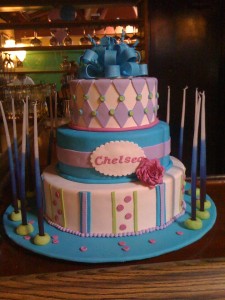 When Chelsea was planning her bat mitzvah, she and her mom decided they wanted Nancy to make the cake for the party. They had tasted the cake at Claire's bat mitzvah, and loved it — and that's saying something since Chelsea isn't a big fan of cake in general. The top and bottom tiers are made from chocolate cake with chunky Oreo filling and chocolate ganache frosting. The middle tier is a luscious lemon butter cake filled with raspberry jam and lemon swiss meringue buttercream, and frosted with the same lemon buttercream. (By the way, Nancy is a card carrying chocoholic, but this lemon-raspberry cake is one of her favorites.)
Chelsea is a lovely and fun girl who is very sporty; she wanted a cake that wasn't too "girly" and didn't have a specific theme. This design, with its happy colors and geometric patterns, got both Chelsea and her mother's enthusiastic stamp of approval. The rose on the second tier and the bow on top are both made by hand from gum paste, an edible sugar dough that dries hard, and so can hold its shape. The bow was dusted with a sparkly blue edible glitter which doesn't really show in this photo but was clearly visible in person.
The candles around the perimeter of the cake were used in a candle lighting ceremony at the party. The 13 candles were lit one by one with help from family and friends who are important to the bat mitzvah girl. There were a lot of photos from the candle lighting ceremony with the cake surrounded by Chelsea and the candle-lighers. After the ceremony, the cake was cut up and served for dessert. We are thrilled that our beautiful and delicious cake helped add to the happy memories of a special day for a very special girl!