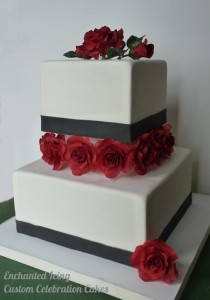 This cake is pure romance.
Lillian and her niece Tracey wanted to surprise Tracey's parents who were renewing their wedding vows after 30 years of marriage. They had sent me a photo of a cake they liked, a two-tiered square cake with red ribbon roses running up one corner of the cakes. Lillian and her niece were open to suggestions, and I sent them back a drawing quite similar to this cake, which raised the height of the resulting cake without adding additional servings. We made a few small changes to the design, and this simple but elegant cake was the result. The key design element according to Lillian was the red roses. There had to be red roses.
Lillian and I had discussed the idea of using ribbon roses (they are a bit more casual, and appear like a ribbon has been rolled up into a flower form) or even fresh roses. But Lillian and her niece had seen the sugar roses on some of the cakes I had done and wanted those for the cake. I think they made the right decision!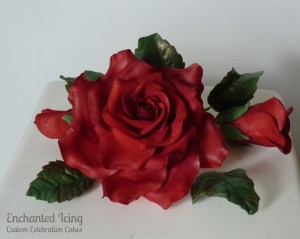 A better view of the top rose
The roses in the middle of the cake go all the way around the cake. On top, instead of a bouquet of roses, we decided to put one large extra-large rose with a couple of buds and leaves. It really made a statement.
I made all the roses on this cake by hand from gum paste, a sugar dough that holds it shape nicely when dry. Each petal was placed on a rose one at a time, layer by layer. It is an amazing process to watch the roses come to life as petals are added and curled just so. A final dusting with powdered food colors enhanced that beautiful red.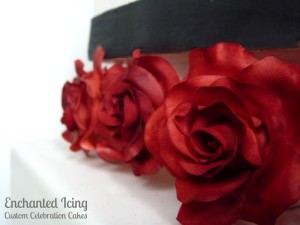 Detail of the side of the cake
The inside of the cake is also red — red velvet, that is, frosted with a white chocolate laced swiss meringue buttercream.
In addition to this cake, Lillian also had a special request. An avid baker herself, she had made a rum cake she wanted me to decorate. (Rum cake is her specialty – and she gave me a taste and I can attest that it was delicious. She and I have very similar philosophies about baking, such as making everything from scratch and using the best quality ingredients.) Lillian wanted the rum cake to be decorated like a vinyl record (remember them??) Specifically, she had a song that the couple had played at their wedding, and she wanted to record label to show the name of that song. More romance!
The song was an oldie from 1964 called "The Wedding", by Julie Rogers. We decided to show the record as a 45 rpm single, with lyrics from the song around the edge. (My kids weren't familiar with record singles, so just in case someone else isn't familiar with them, here's a little background. Until CDs took over, records were released as albums and singles. Albums were the big 12″ vinyl records with many songs on their two sides, and they played on a record player at 33 1/3 rotations per minute (rpm). Singles were hit songs released on smaller 7″ records, and they spun at 45 rotations per minute. There was usually a hit on one side ("the A side") and a second, less well known song on the other ("the B side"). 45s often had a big hole in the middle of the record, so you needed an adapter to make it fit the spindle in the center of the record player's spinning platter).
When Lillian picked up the cakes, she was so happy with everything that she gave me a big hug! I hope the anniversary couple loved the cake and had a beautiful celebration to renew their vows. If Lillian is at all representative of the kind of love and care in that family, there's no question that they will have another 30 years of happiness together. And I suspect that they'll keep the romance alive!