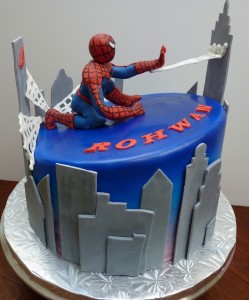 THWACK! Spiderman spins a web in a (vain) attempt to save Manhattan from a cake knife!!
This Spiderman cake was made for an avid Spiderman fan named Rohwan, who was turning 4. I had a blast making this cake. The cake is vanilla with chocolate frosting, and the whole thing is covered with fondant (sugar dough) for that lovely smooth finish. The cake is constructed with the top at an angle to create the impression that Spiderman is climbing or perhaps clinging to the side of a building. Flat just didn't seem right for Spiderman.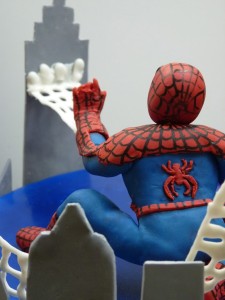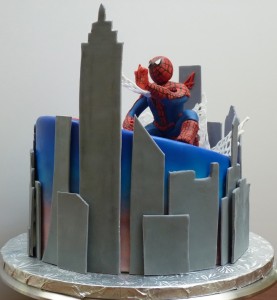 I made Spidey himself from another type of sugar dough called gum paste – the advantage is that it gets much firmer than fondant as it dries. The buildings are also made from gum paste. And by the way, both Spidey and the buildings are 100% edible!
I got to use my brand new airbrush machine on this cake (being the cake geek I've become, that was really exciting and fun for me!) I hope you can see the hint of pink between and behind the buildings (the gaps between groups of buildings represent the avenues which run east to west in Manhattan).
Rohwan's mother wrote me that the cake was a huge hit with not only Rohwan and his friends, but also with the parents who attended the party! She wrote to me:
"

Loved the spiderman cake! Lots of oohing and aaahing from kids and adults!"
I hope it was a great birthday Rohwan!