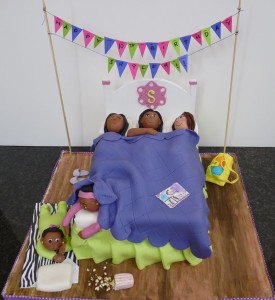 Remember when you were turning 10 years old (two digits!) and you were beyond excited to have your closest friends sleep over to celebrate your birthday?? How you didn't want to go sleep because you were having an amazing time with your best pals and tried to keep your eyes open until they were so heavy you needed to pry them open? And how your pesky little siblings always tried to join in the fun, and your mom made you let them in, but you still kept them out of the way? Well that's exactly what this cake is trying to capture, in order to help Skyler, a vibrant and gregarious girl, celebrate her 10th birthday! What? You can't see a cake here? Well look harder!!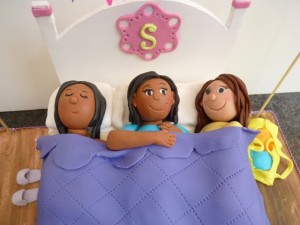 I had a blast making this cake. The cake itself is a perfect-for-spring combination of lemon cake with raspberry buttercream filling, covered with creamy lemon swiss meringue buttercream. This certainly isn't your typical birthday cake, however — the cake layers are disguised as the mattress and thus hidden from direct view! Instead, what you see are figurines of Skyler, the birthday girl, looking very content in the center of her bed, surrounded by two of her BFF's (that would be Best Friends Forever), one of whom has dozed off after reading the magazine which was casually tossed to the end of the bed. Meanwhile, Skyler's littlest sister, who is two, is lying on a sleeping bag on the floor by the foot of the bed, and she's just discovered the box of popcorn that spilled all over the floor. The middle sister, who's about 6, sneaked under the covers at the foot of the bed, and she's come out to see what little sis has done now.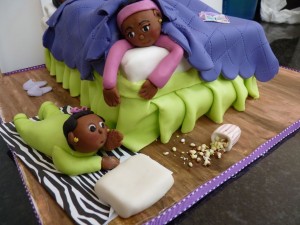 Almost everything you see is edible. The bed and its coverings, the girls, the lavender slippers by the bed, the yellow overnight bag stuffed with clothes, and the little one's pillow and the popcorn and box are all made of fondant. The wooden floor is painted with food coloring so technically it is food safe too. Only the little one's zebra sleeping bag, the bed's headboard and the flags above the bed can't be eaten! That's it.
Skyler was thrilled when she saw the cake. She quickly identified herself, her sisters and her best buddies, and said I captured their personalities in their figurines. She couldn't believe it was a cake, and neither could her friends, who came rushing to see the cake as soon as they arrived. Skyler told me it was like Cake Boss's cakes, but this one was just for her! Happy 10th Birthday Skyler! I'm glad I was able to help make it a special day for you!