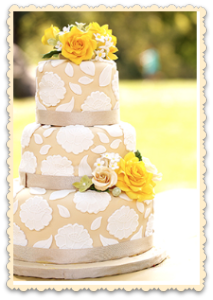 Sarah and Rod were married in beautiful setting: New York City's Central Park! They chose to have a non-traditional wedding, with a picnic lunch after the ceremony, organized by wedding planner A Central Park Wedding. The weather was fabulous, albeit a little bit warm by cake standards – a sunny 90 degrees. But there was a nice breeze, and matching white and champagne colored quilts were spread out across the lawn near the Bethesda Fountain and the lake with the boaters. It was a spectacular setting for a celebration!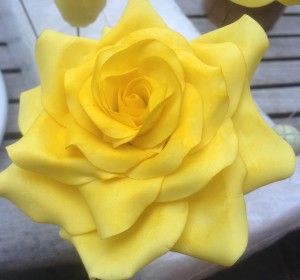 The cake was made to match the wedding colors: white, cream, champagne and yellow. The bride's bouquet was made of yellow and cream colored roses, and the bridesmaids carried cream roses in their bouquets. I made the flowers on the cake by hand of sugar to match the flowers in the wedding. You can see an up-close image of one of the roses at right. Inside, the cake is a white vanilla cake filled with a combination of passion fruit curd and passion fruit buttercream and frosted with the same passion fruit buttercream. The couple planned to take home the top tier to save for their first anniversary.
Congratulations to Sarah and Rod!! I wish you a beautiful lifetime together filled with love and laughter!