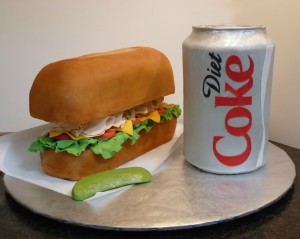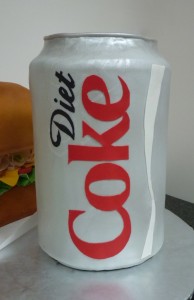 Groom's cakes have become a very popular part of weddings these days. They're cakes made especially for the groom, since, let's face it, a great deal of the wedding is all about the bride.
This two-part groom's cake was made for one of my daughter's favorite teachers as a surprise for her fiance. It seems that he has a rather limited repertoire when it comes to lunch: a turkey sandwich and Diet Coke are his favorites. And so that lunch was transformed into a cake, making a loving tribute to a future spouse's quirks. I, of course, as an appreciative parent, was thrilled to be able to make this cake for her teacher and really enjoyed getting to know her a better through the design process. I'm happy with the way the cake turned out, and more importantly, they were thrilled!
Don't let the photo fool you: this is a pretty large cake, meant to serve 50. The diet coke cake is almost 11″ tall, larger than a half gallon of milk! Inside, the cake is a deep chocolate cake made with a pint of Young's Double Chocolate Stout in the batter, and it is really, really tasty. The stout flavors the cake but it is very subtle; the alcohol burns off and all that's left is a bit of depth and complexity of chocolate goodness. Nonetheless, the cake has a nice crumb and isn't too dense. I love chocolate and think it should be its own food group, and in my opinion, this is one of the best chocolate cakes I've tasted.
We paired the cake with alternating layers of chocolate buttercream and mint buttercream as fillings between the layers, and covered the cakes with dark chocolate ganache (a delicious mixture of chocolate and cream, which gives it a fudgy consistency). This cake is a chocoholic's dream!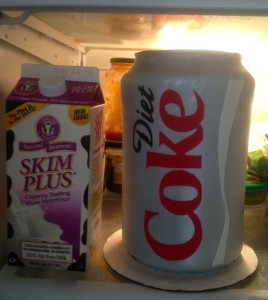 I also wanted to take this opportunity to wish Lauren and Tim all the happiness in the world for their future together.