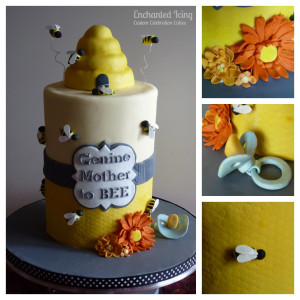 Genine's mother, Debbie, contacted me about making a bee-themed baby shower cake for her daughter. I came up with the design, which she loved. The cake was a 6″ round, double height cake, meaning that it is really two tiers of identical size stacked one on top of the other and decorated as though it were one very tall tier. The cake was a over 8″ tall, not including the beehive on top. Little bees made of fondant cover the cake. They don't sting — they're sweet bees! The bottom half of the cake is imprinted with a beehive design, for a little extra visual interest. The cake is finished with a few orange flowers and a pale blue pacifier made of gum paste (a sugar dough that hardens), since she's having a baby boy.
Some baby shower cakes are very babyish in design, but this cake was designed to be more sophisticated and contemporary. It was a cake truly for the mother to be, not a cake for the baby. After all, once the baby comes, it feels like the world revolves around the new little being (I think all mothers would agree with me), so I think it is nice for the mom to be celebrated and the center of attention one last time.
The sunny design on the cake was matched by the cake itself. The layers were moist lemon cake, filled and frosted with a fluffy, not-too-sweet lemon swiss meringue buttercream.
Congratulations, Genine, on your baby and to Debbie on your grandson! Send us a photo when he arrives!